Fernanda D'Agostino starts her Homework assignment.
When I first met Fernanda D'Agostino while teaching a camera workshop in 2009, I failed to realize that she was the creator of several of my favorite works of public art.  Fellow Portlanders may know her from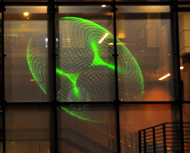 her mesmerizing installation at Portland State University, "Intellectual Ecosystem" (pictured).  Her most recent project, "Pool" is a video installation that uses an ancient greek mneumonic device called "the Method of loci" as a jumping off point to explore the relationship between memory and place.  In it, imagery of a swimming woman is interspersed with a variety of striking images, and projected onto a seven foot diameter metal dish.   The piece is as immersive as its title suggests; the motion of the audience is detected by multiple sensors in the room, which in turn mix the five channels of video to create a unique experience for each viewer.
I'm honored that she's taking time out of her schedule to try her hand at the first Homework assignment.  If you missed it, you can read about it here, and be sure to check out all of Fernanda's work on her site.