Liz Lewis buckles down for some Homework.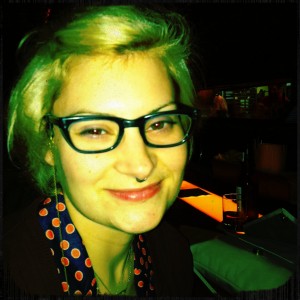 The third and final artist invited to take a crack at the current Homework assignment, "The Last Voice You Will Ever Hear," is Liz Lewis, a colleague of mine at the Northwest Film Center.  Liz describes herself as a "collaborative filmmaker," and her most recent credits include being the editor of The Lost Van Gogh, (directed by my good friend Jessica Lyness) and as animator for Flossophy, (directed by another good friend, Cassie Cohn).
Of course she also creates plenty of her own work, and event though she's too modest to bring it up, I'd like to mention that her film Bobby Beats, created as her thesis film for the NWFC School Of Film Certificate Program, also earned her an honorable mention in the "Keep It Short" film contest. [CORRECTION: Liz' thesis film was actually an entirely different film, called Positive.  You can see a trailer for it here.  Sorry about that, Liz!]
You can watch Bobby Beats below, and check back soon for updates on how Liz is approaching her first Homework assignment.
Bobby Beats, Liz Lewis from NW Film Center School of Film on Vimeo.